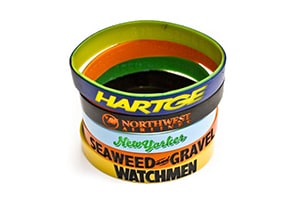 Standard 4 Day Production
Two Colors (Pantone Matched)
100% Medical Grade Silicone
Free Artwork & Design
1 Day Production Available!
Like their custom bracelet cousins, they are durable and competitively priced, although they have the added detail of laser engraved color that shows from the inside out. When you're looking for a new take on a tried-and-true accessory, look for color coated wristbands! They feature contrasting colors on the band, and striking lettering that brings the reverse colors to the bold front of the band – like the unmistakable detail only a cool coat can offer. Who said coats make you warmer? Color coated wristbands make it cooler with a coat!
Pricing for Quanitites of 50 and Above
| 50 | 100 | 250 | 500 | 1000 | 2000 | 3000 | 5000 | 10,000 | 20,000 |
| --- | --- | --- | --- | --- | --- | --- | --- | --- | --- |
| $2.45 | $1.70 | $1.20 | $0.73 | $0.45 | $0.39 | $0.37 | $0.31 | $0.29 | $0.29 |
Pricing for Quanitites below 50
| Quantity | Front Message | Back Message | Add Clipart | Ground Shipping | Two Day Shipping | One Day Shipping | One Day Production |
| --- | --- | --- | --- | --- | --- | --- | --- |
| 1-9 | $6.19 | +$0.25 | +$0.10 | $7.00 | $19.00 | $24.00 | +30% |
| 10-24 | $4.01 | +$0.25 | +$0.10 | $12.00 | $24.00 | $33.00 | +30% |
| 25-49 | $3.11 | +$0.25 | +$0.10 | $15.00 | $29.00 | $39.00 | +30% |