Three Quarter Inch Wristbands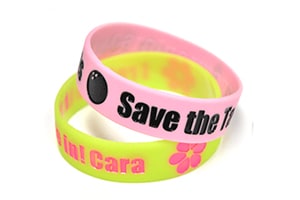 Free Shipping to the Continental USA
3 Options Below (View Pricing)
100% Medical Grade Silicone
Free Artwork & Design
As Low as $0.39 each, fully customized!
Want a wider wristband to help your message or logo stand out? Go for our ¾" silicone wristbands. With 50% more width than our standard bands, these custom wristbands offer a bigger display for your logo or lettering. The added letter height will make your message more legible. Select your choice of debossed, silkscreen printed or color filled, and these extra-wide wristbands bands will clearly showcase your cause or organization.
Pricing for Three-Quarter Inch Wristbands
| Type | 50 | 100 | 250 | 500 | 1,000 | 2,000 | 3,000 | 5,000 | 10,000 |
| --- | --- | --- | --- | --- | --- | --- | --- | --- | --- |
| Debossed | $2.23 | $1.77 | $1.04 | $0.78 | $0.52 | $0.46 | $0.39 | $0.37 | $0.35 |
| Debossed Painted | $2.30 | $1.82 | $1.15 | $0.84 | $0.59 | $0.49 | $0.48 | $0.45 | $0.44 |
| Embossed | $2.23 | $1.77 | $1.04 | $0.78 | $0.52 | $0.46 | $0.39 | $0.37 | $0.35 |
| Silk Screened | $2.23 | $1.77 | $1.04 | $0.78 | $0.52 | $0.45 | $0.39 | $0.37 | $0.33 |