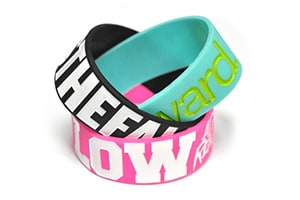 Free Shipping to the Continental USA
3 Options Below (View Pricing)
100% Medical Grade Silicone
Free Artwork & Design
As Low as $0.38 each, fully customized!
Our custom one inch Wristbands are perfect for when you want to showcase your message in a BIG way. Twice the size of our standard silicone wristbands, these custom bands offer lots of space to make your point. They're big, bold and beautiful, a sure way to get your cause noticed! Available in standard debossed, silkscreen printed, color filled or die cut, they're a perfect way to get your desired message out.
Pricing for One Inch Wristbands
| Types | 100 | 250 | 500 | 1,000 | 2,000 | 3,000 | 5,000 | 10,000 |
| --- | --- | --- | --- | --- | --- | --- | --- | --- |
| Debossed | $1.82 | $1.10 | $0.84 | $0.58 | $0.51 | $0.44 | $0.42 | $0.40 |
| Color Filled | $1.88 | $1.20 | $0.94 | $0.68 | $0.62 | $0.55 | $0.52 | $0.47 |
| Embossed | $1.82 | $1.10 | $0.84 | $0.58 | $0.51 | $0.44 | $0.42 | $0.40 |
| Silk Screened | $1.82 | $1.10 | $0.84 | $0.58 | $0.51 | $0.44 | $0.42 | $0.40 |
| Die Cut (Custom Shape) | $1.98 | $4.41 | $1.10 | $0.82 | $0.70 | $0.64 | $0.62 | $0.54 |