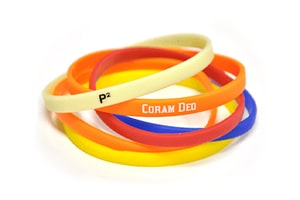 Free Shipping to the Continental USA
Includes 1 Color band + 1 Color Print
100% Medical Grade Silicone
Free Artwork & Design
As Low as $0.20 each, fully customized!
Thin is in! Micro Wristbands are a dramatic alternative to standard wristbands. These eye-catching bands, just half the width of our standard silicone wristbands are hard to ignore. The silkscreen printed bands are crafted of the same top-quality 100% medical grade silicone as our other wristband lines. The silkscreen process gives your message a bright, bold, colorful presence that both wearers and viewers alike are sure to find attractive.
Pricing for Micro Wristbands
| 50 | 100 | 250 | 500 | 1000 | 2000 | 3000 | 5000 | 10,000 | 20,000 |
| --- | --- | --- | --- | --- | --- | --- | --- | --- | --- |
| $1.94 | $1.25 | $0.83 | $0.43 | $0.30 | $0.24 | $0.23 | $0.22 | $0.21 | $0.19 |