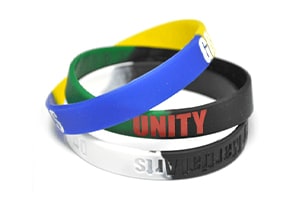 Free Shipping to the Continental USA
Up to 3 Color Wristband
100% Medical Grade Silicone
Free Artwork & Design
As Low as $0.20 each, fully customized!
Sports fans, when it comes to silicone wristbands, this style is for you! These debossed 100% medical grade silicone wristbands are the perfect way to show off your team loyalty. The block colors don't blend together the way swirled bands do, so they're a great way to display team colors. No matter what team you root for, or what sport, these wristbands are ideal to show your love for the game and your school.
Pricing for Segmented Wristbands
| Type | 50 | 100 | 250 | 500 | 1,000 | 2,000 | 3,000 | 5,000 | 10,000 |
| --- | --- | --- | --- | --- | --- | --- | --- | --- | --- |
| Debossed | $1.93 | $1.13 | $0.71 | $0.50 | $0.35 | $0.31 | $0.29 | $0.25 | $0.22 |
| Debossed Painted | $2.03 | $1.40 | $0.99 | $0.60 | $0.40 | $0.36 | $0.34 | $0.32 | $0.31 |
| Embossed | $1.93 | $1.13 | $0.71 | $0.50 | $0.35 | $0.31 | $0.29 | $0.25 | $0.22 |
| Screen Printed | $1.93 | $1.15 | $0.73 | $0.52 | $0.37 | $0.34 | $0.31 | $0.27 | $0.24 |