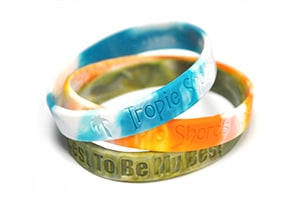 Free Shipping to the Continental USA
Up to 3 Color Wristband
100% Medical Grade Silicone
Free Artwork & Design
As Low as $0.20 each, fully customized!
Want to give your silicone wristbands an extra "wow" factor? Consider swirled colors! These are not wristbands for the timid! The combination of two (or three) colors gives the debossed wristbands a great blended color palette that gives your message an unmistakable unique appeal. There's no question that people will remember the bright, unforgettable colors of swirled wristbands. And that means they'll remember the cause that the wristbands represent too.
Pricing for Swirled Wristbands
| Type | 50 | 100 | 250 | 500 | 1,000 | 2,000 | 3,000 | 5,000 | 10,000 |
| --- | --- | --- | --- | --- | --- | --- | --- | --- | --- |
| Debossed | $1.93 | $1.13 | $0.71 | $0.50 | $0.35 | $0.31 | $0.29 | $0.25 | $0.22 |
| Color Filled | $2.03 | $1.40 | $0.99 | $0.60 | $0.40 | $0.36 | $0.34 | $0.32 | $0.31 |
| Embossed | $1.93 | $1.13 | $0.71 | $0.50 | $0.35 | $0.31 | $0.29 | $0.25 | $0.22 |
| Silk Screened | $1.93 | $1.15 | $0.73 | $0.52 | $0.37 | $0.34 | $0.31 | $0.27 | $0.24 |